A Commission in the Battle Of Walkerloo

Commission a portrait in the Battle of Walkerloo and get to be a Print-fantry toy soldier ready for instant worldwide download action PLUS get my original gouache portrait for you and your descendants ever after!

I'm always trying to make more paper soldiers and I often get requests for new units so if you want a particular unit to exist, sign up for a commission and together we can fight to set imagination FREEE!
Each commissioned portrait is currently €150.00 +P&P
To see which units are recruiting visit my recruitment page where you can sign up for a portrait commission and parallel life as a print-fantry soldier. If you want to suggest your own choice of unit drop me an e-mail (at walkerloo.com) - If your in a group or can recruit your own comrades your unit will be fast tracked!
Once you've decided on a unit I need a selection of photographs of you (or the portraitee your gifting) pretending the chosen position i.e. shooting, marching, commanding. (see photo guide below).
I'm happy for comissions for men, women or children...
If you can provide me with a good pose you can be accepted and just like stories from history of boys and women hiding their true identity to join the army in the Battle of Walkerloo you may appear younger, older, bigger or slimmer to suit your particular Print-fantry unit.
When there are sufficient recruits for your unit I will begin the pencil sketches. I will send you a scan of your sketch to sign off before I begin to ink and paint the picture. A 30% deposit is asked for at this stage and the balance is only paid when you've received and accepted a scan of the final painted gouache portrait. Then the unframed A3 gouache painting will be sent to your home. Finally you will receive a link to download the PDF printfantry sheet in which you have a starring role.

Photo Guide Notes
Below are a series of pictures my wife took (she's not a professional!) for units I've already made.
Take the photos outdoors on a cloudy day. If its always sunny there the shade of a building also works.

A DSLR or simple pocket camera is fine.

My toy soldiers are almost always 'right side profile' so your pictures must also be from that side.

For the facial portraits it is best to keep the camera at the eye level of the subject - this avoids strange forshortening across the face when I'm painting a likeness.

It's best if the camera is at least 5 meters from the subject or further if the camera has a zoom lens function. Zoom lenses 'flatten' the subject which is better for my purposes, avoiding wide angle effects and distortions.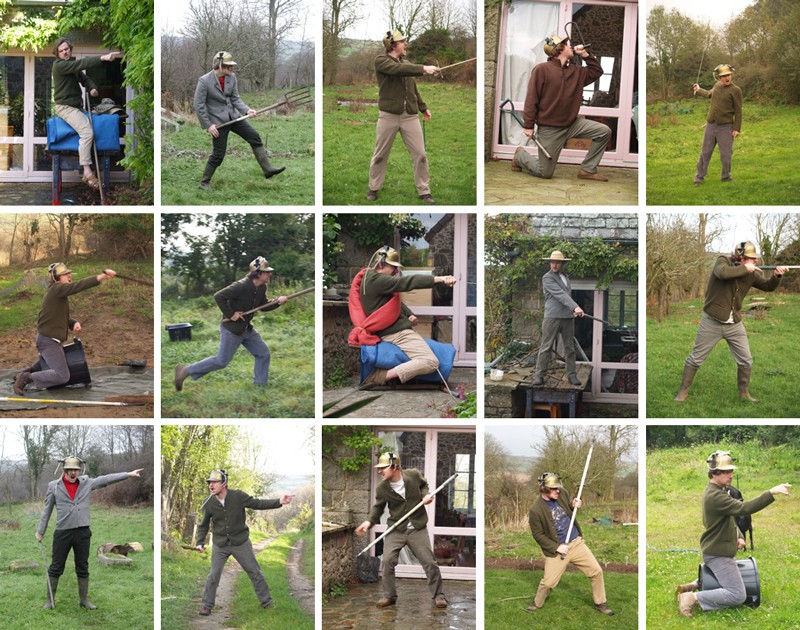 VERY IMPORTANT! When you're pretending to be a soldier, PRETEND TO BE SOLDIER!... shout CHARRRGE! Think about the anger, fear, surprise, anxiety and determination. Imagine the battle all around the nervous excitement, the horror, the glory, the futility, the mission. My toy soldiers are best becasue they are expressive, so you've got to be expressive to be one! As you see from my pictures I use sticks and garden tools as props for muskets swords and cannon balls. Wear a hat with a peak (like most soldiers) the soft shadow the hat casts on your face will help me paint your facial characrteristics into your hat wearing toy soldier character. If you are to be a mounted soldier, saddle up - I use a plastic bin for a horse, or a chair with a blanket as a saddle! ... HUSSARRRR!
At the battle of Walkerloo I only ever paint one side of a soldier and that is 'the right side'... In the Napoleonic wars even left handed sodliers were ordered to use weapons righthanded.
It's best if you take a lot of pictures and post them on a site such as flickr so we (you and I) can select the most appropriate photo to act as a starting point for your portrait.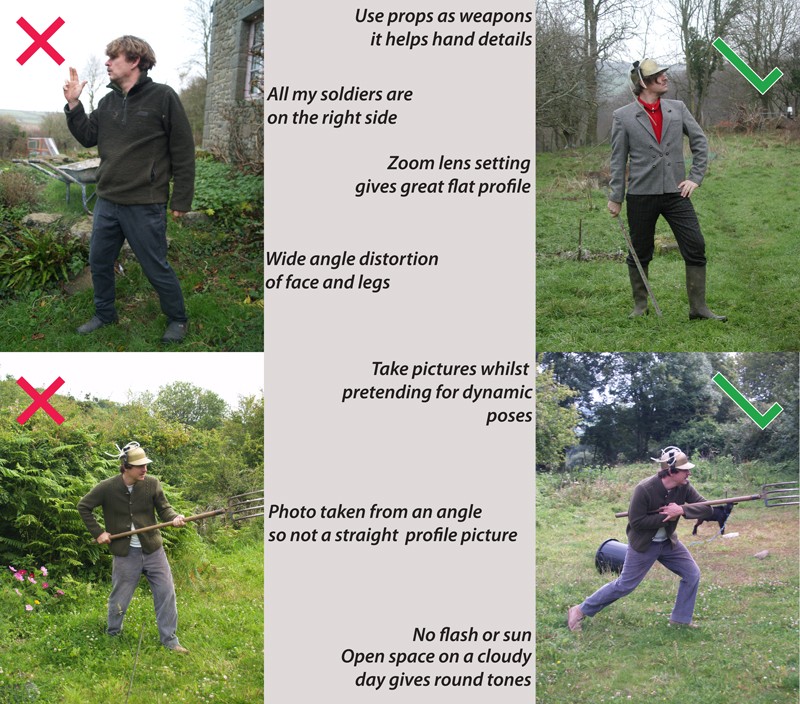 SO SIGN UP, BECOME A PAPER SOLDIER & GET YOUR WALKERLOO PORTRAIT PAINTED!!