What are Walkerloo Toy Soldiers?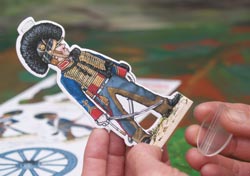 Toys are a great way of getting children interested in history, able to spark interest and imagination. Playing and arranging my soldiers brings up all kinds of questions - who are they? why those crazy cloths? why were they fighting in the first place? Historical toys provide a way to find out about war, one of humanity's most calamitous creations.
So far I've made toy soldiers from 10 different regiments who fought at the battle of Waterloo. For each regiment I've drawn and painted groups of soldiers in realistic animated actions and different ranks to give units vitality.
To see more detailed pictures showing the size and thickness of the soldiers, click here.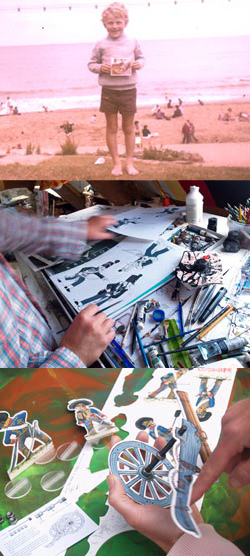 The Road to Walkerloo.
I have always loved drawing soldiers – at the back of the classroom, after watching war films and when I didn't know what else to draw. Much later when my nephew's birthday came up and I was looking round for a present, I found some cartoon drawings I had done years before of French Tirailleurs. I decided to mount them on card and send him them. He loved them, and I thought others might too, so I started drawing more and developing my style, getting very excited about all the regiments I could depict! After 18 months drawing and painting, we (my wife and I) started looking for a company that could produce them. Not easy. We eventually found a company in France who specialise in making board games and puzzles and so had all the machines and skills necessary for printing, gluing on both sides and die-cutting thick card. I was very concerned to get enough detail in the cutting tool outline, I think they did a great job making the cutting tools from my drawings. I wanted to make them in Europe, where I live, and where you have certain guarantees about materials and the manufacturers working conditions. I also wanted to make a product with as much recycled and recyclable material as possible. One thing it proved impossible to make out of card was the stands (a narrow slit is very difficult to cut and remove) so we went for a practical plastic stand, made in England.
Paper Soldiers
I had seen a wonderful book on paper soldiers in a bookshop on Charing Cross Road and when I started thinking about making some my self decided to buy it. I hadn't realised they themselves had quite a history. Edward Ryan's book is a marvelous resource on the subject and I've spent hours pouring over the beautiful images of past paper soldiers. It's been great corresponding with Edward Ryan who also put me in touch with Philip Haythornthwaite (whose name any reader of books on Napoleonic Armies will recognise). They have both been extremely helpful and supportive. Of course, being made of paper, very few of the old paper figures survive, and as plastic has become so cheap and easy to make, it has taken over. But I didn't like the monochromes of plastic figures and never had the patience to paint armies of them, so thought it was time to reinvent a forgotten form!

The Future
I've already got a whole bunch of drawings I've yet to produce for the French and British Army and I've made a good start on the Prussians. Of course I realise there are other Battles, other stories which could make great walkerloo soldiers. Collect my soldiers and watch this Space!