Rules etc.
Cards and Confusion are rules that fit onto an A4 sheet when printed and are simple enough to pick up easily whilst playing.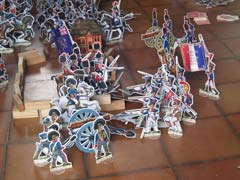 Double Trouble are even simpler rules which allow you to set up and move armies and role a pair of dice to see how effectively your soldiers can fight.
I'll be adding more to this rules section. If you have a set of rules you think would work well with walkerloo toy soldiers send them to me and I'll publish them here for others to test, play and perhaps improve!
Historicals
COLOURING FACT SHEET 001. The 42nd Royal Highland Foot were the first Highland Regiment in the Britiah Army. Not only did they fight at Waterloo but also found them selves suprised by French Lancers at Quatre Bras 2 days before... Found out about it in this colouring fact sheet. Simply download unzip and print it out by right clicking on the picture below and selecting 'Save Target As...'.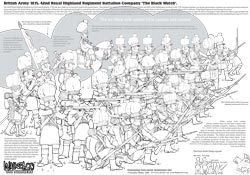 HISTORICAL 001. The RHA 9 pounder team in action. This is a flash cartoon showing how a napoleonic cannon was fired and loaded. Move your mouse over the picture and click the buttons to find stuff out.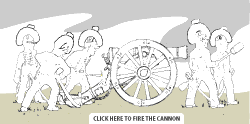 As I research and further develop Walkerloo.com I will add texts, diagrams, animations and drawings to explain the story behind the soldiers I've made.
Specials
SPECIAL 002. British Generals Aide-de-camp. Without telephones or radios Generals would use enthusiastic young officers to carry their orders about the battle field. This young officer is dressed in his finest uniform for the big occasion!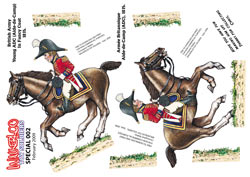 SPECIAL 001. French 12th Curassier eagle bearer. An illustration that didn't make the final print plates. Download him, print him, mount him on card!